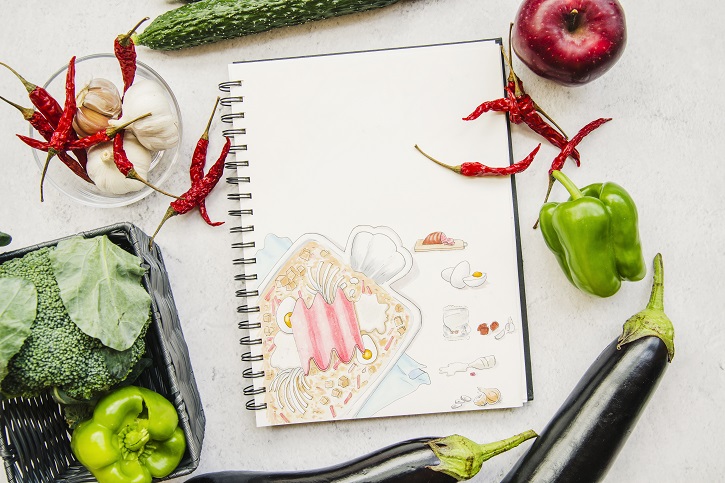 Meal planning is a great tool for almost anyone. Whether you're a busy spouse who needs to know ahead of time what's for dinner, or a single person living a busy life full of meetings and time with friends, meal planning can help you lead the healthy lifestyle you've always meant to.
By planning out every dinner, possibly even lunch and breakfast if your personality is super organized, you take the stress out of cooking.
You can put the menu on your fridge and rest easy knowing that you won't have to spend your day wondering what you're going to whip up, when in reality, you're already so hungry you'll eat the first thing you see in your fridge.
Reasons to Meal Plan a Month in Advance
Meal planning can seem daunting at first, especially if you've never done it before. Sitting in front of a blank menu can be hard if you're used to rummaging in your fridge until you find something that looks good every night. Filling in a week's worth of meals can be tough, let alone a month.
Tough as it may be, however, there are distinct advantages to meal planning a month in advance.
1 – By planning in advance, you'll be able to slash your grocery bills, possibly in half. Stores want you to buy more than what's on your list. They place tantalizing items on display that are hard to resist. The less often you're at the store, the better. By planning a month in advance, you only need to do a large shopping trip once a month.
You can stop at a small store every week to restock on produce and milk. Plus, you'll save more because you'll be able to buy in bulk.
2 – It's not as hard as you think. By setting up a meal rotation, you can easily set up a month of meals. This will save tons of time, leaving you free to cook and enjoy your meals.
3 – Meal planning can help make being healthy easier. Not only will it help relieve stress, it will let you plan your meals exactly, down to their macros. If you're following a certain diet, meal planning is the only realistic way to stick with it. By planning far in advance, you'll lower costs, be able to shop in bulk, and will save time. In a world that never stops running, it can feel refreshing to have a little time to rest.
Tips for Meal Planning a Month at a Time
In most respects, planning out your meals a month ahead of time, is the same as a weekly meal plan. There are just a few things to consider.
1 – When and where to grocery shop. Just because you are planning a months' worth of meals, doesn't mean you are prepping and coking them all at the beginning of the month. You may want to split this up into weekly or bi-weekly grocery trips so your food doesn't spoil.
2 – Whether or not to prepare them ahead of time. This is a really important decision to make, and one that will determine what types of meals you make. If you like freezer meals, you can definitely make more of them at once, as opposed to salads you put in jars, which won't last nearly as long.
3 – Factoring in changes to your schedule. You probably know what is going on in the next week, but in the next month? Maybe not. This is why it's good to have backup ideas for at least a few days out of the month when things may not go exactly according to plan.