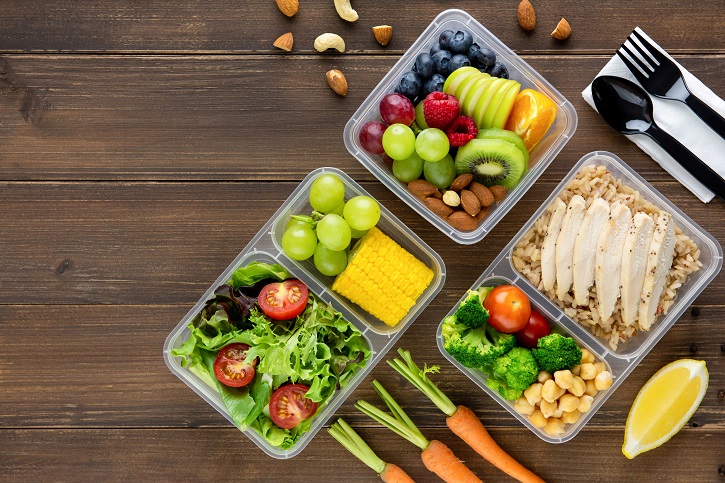 When it comes to meal planning, prepping and organizing the meals is a very important factor. Storage containers and other accessories are imperative to making the process super easy and convenient.
So, here I've curated a list of all the meal planning essentials that you need to add to your kitchen. (Remember that using reusable storage containers means you've done your part for helping the planet.)
Check out this list of the top 10 kitchen must haves to make your meal planning routine even easier than you thought it would be.
Lunch Boxes
Lunch boxes are a great way to store the food that you want to eat the next day or later on in the week. You can find sets for a really good price in most supermarkets and houseware stores. If you can, try and get the leak-proof ones.
Most of these will have a seal which will stop liquids from spilling out, so whether you're having a fresh, chicken salad or last night left over chili con carne, you can be sure the inside of you bag will stay dry.
Freezer Bags
Freezer bags are a must have when doing meal planning. These are an easy and convenient way to keep your prepared portions of food ready-to-go when stored in the freezer.
Using freezer bags rather than boxes takes up less room which means more meal planning and freezing for you.
Measuring Cups
If you want to make sure you're getting the right portion sizes for your meals, and/or making sure you are measuring ingredients accurately, measuring cups will be your new best friend.
Storage Containers
Having many storage containers of different sizes is a must for meal prepping. Whether you use them for freezing, breakfasts, lunches or as snack holders for your bags, they'll always come in handy.
Aluminum Foil
Aluminum foil is one of the best prepping accessory. When cooking fish, chicken, chops or vegetables, wrapping them in foil keeps them moist and flavorful. It's also great for when it comes to storing food.
Simply wrap your half cut onion or tomorrow's sandwiches in some and pop them in the fridge and you'll be sure they'll stay fresh and yummy.
Mason Jars
Mason jars are great for both breakfast meals and salads. If you find yourself in a rush in the morning and skipping breakfast, look no further. Mason jars are a great way to store homemade granola and to soak oats overnight.
They are also a great way to transport your salads. Just layer your favorite salad ingredients inside the jar and go. If you want to go ahead and add the salad dressing, just put it on the bottom so it won't make it soggy. When you're ready to eat, flip the jar upside down for a few minutes so the dressing can cover the veggies.
Simply prep the night before or a few days in advance and all you have to do is grab and go.
Slow Cooker
If can afford it, purchasing a good slow cooker is a great investment. You can make a stew or pop a roast in it before heading out for the day, and then you'll have several meals prepared.
Using a slow cooker like this means you don't have to spend a lot of time in the kitchen. And, with the extra food cooked, you can eat some of it now and save the rest for next week or so.
Thermoses
Investing in good quality thermoses is another useful investment. If you enjoy and want to make homemade soup to take to work but don't want the to have to use a microwave, these will be your life saver.
Simply heat up your soup in the morning and put it into your thermos before you leave the house, and you're good to go for up to 12 hours.
Mini Cooler Bags
If you want to have meals that need to be kept cold but don't have access to a refrigerator, mini cooler bags are your answer. Coming in different sizes and cool patterns, you'll be able to keep your delicious food fresh and palatable.
Nutribullet
Though a little more on the pricey side, buying a Nutribullet (or any other smoothie maker) is a really good idea. You don't just have to use this to make smoothies, they are really useful for making homemade soup, hummus and much more. So, for a one-time purchase, it'll definitely be worth it in the long run.